Cardinal Bucks!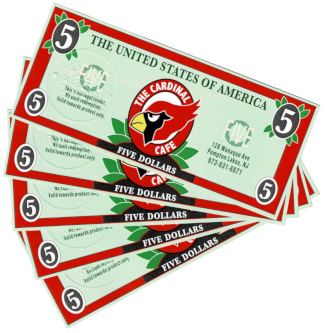 They're the perfect gift for all the Cardinal Cafe fans in your life. Or how about Cardinal Bucks for someone who's yet to experience our friendly atmosphere and delicious menu? After all, what could be better than receiving the gift of a Cardinal breakfast or lunch?
A thank you to your mail carrier.
An extra little tip for your babysitter.
A holiday gift for friends or relatives.
A surprise bonus for employees to let them know their work is appreciated.
Can you think of anyone who wouldn't enjoy getting C-Bucks? Of course you can't!
Cardinal Bucks are available in five dollar increments and never expire.
---
FREE parking in rear.
Use our back entrance!